Stretch Film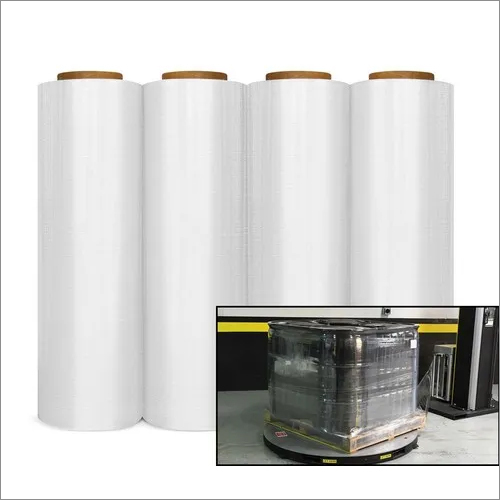 Stretch Film
Price And Quantity
Product Specifications
Hard

300 MTRS ~ 2500 MTRS Meter (m)
Blue, Black, Transparent

Smooth Finished Surface
Product Description
Introduction
We introduce ourselves as leading manufacturers and suppliers of Stretch Film, which is manufactured at ultra modern imported plant with state of the art technology from world leaders. Stretch Cling Film is a Multilayer, High Barrier, Wonder Packaging Film which has properties of stretchability and ability to cling on to itself without any external adhesive or heat. Stretch Film has versatile properties. It protects products from aerial moisture, dust and dirt which may be harmful for the products. We can also supply colored stretch film for specialized application as per clients requirement. Once wrapped with stretch film, the products are prevented from falling during transportation through bumpy roads. Scattering of small products can also be prevented by packing them together with stretch film. In some cases Shelf life of products can also be increased by using stretch wrap.


Salient Features

Can Be Used by Both Manually & by Machine
High Tensile Strength and Puncture/ Tear Resistance
Protects Products from Moisture, Dust, Dirt & Pilferage
Secures Palletized Loads & Packaged Loads from Transit Damages
Improves Containment of Load
Enhances Safety of Employees
Recyclable
Can Be Supplied in Different Colors

Sizes & Specifications: Stretch Cling Film is available in different Widths ranging from 75 mm to 900 mm with Thickness ranging From 20 Mic to 50 Mic. It is also available in two grades. i.e. one for Manual Packaging & another for Machine Packaging.
| | | | | |
| --- | --- | --- | --- | --- |
| ITEM | CORE ID (In Inches) | THICKNESS (In Microns) | WIDTH (In mm) | Length (in Mtrs) |
| Manual Grade | 1 / 3 | 20 ~ 29 | 100 ~ 500 | 300 ~ 500 |
| Machine Grade | 3 | 23 ~ 50 | 500 | 1000 ~ 2500 |
TECHNICAL PROPERTIES



Characteristics

Method

Measurement Unit

Product Value










Manual

Machine

Thickness




Micron

20

23

23

25

29

50

Density

ASTM D-1505

GR/CC

0.918

0.918

0.918

0.918

0.918

0.918

Impact Resistance (Dart Test)

ASTM D-1709

GR

110

115

200

250

300

350

Tensile Strength at Yield

MD

ASTM D-882 B

8.5 N/ mm2

9 N/ mm2

10.5 N/ mm2

12 N/ mm2

15 N/ mm2

20 N/ mm2

TD

7.5 N/ mm2

8 N / mm2

9.5 N/ mm2

10 N/ mm2

13 N/ mm2

18 N/ mm2

Tensile Strength at Break

MD

ASTM D-882 B

21 M Pa

22 M Pa

25 M Pa

30 M Pa

35 M Pa

50 M Pa

TD

13 M Pa

15 M Pa

17 M Pa

25 M Pa

30 M Pa

45 M Pa

Elongation at Break

MD

ASTM D-1922

2025 mN

2046 mN

2200 mN

2500 mN

2700 mN

3200 mN

TD

2875 mN

2924 mN

3100 mN

3200 mN

3500 mN

3800 mN

Tear Resistance (Elmendorf)

MD

ASTM D-1922

2025 mN

2046 mN

2200 mN

2500 mN

2700mN

3200 mN

TD

2875 mN

2924 mN

3100 mN

3200mN

3500 mN

3800 mN

Guaranteed Stretch

Highlight Method

%

145

145

250

250

250

250

Stretch

Highlight Method

%

145

145

250

250

250

250

Cling

Vijaypack Method

G

130

130

130

130

130

130

Haze

ASTM 1003










1<

1<

1<

1<

Gloss (450 Angle)

ASTM 2457

%







>90

>90

>90

>90
Starting Price: Rs 110 ~ Rs 150 Per Kg
Areas of Application
This material has found application in all kind of industries for Wrapping of Palletized Cargoes, Cartons, Boxes, Coils, Rolls, and Cylindrical Products. It is widely used in various types of industries to pack a range of products. Some of them are as follows:

Refractory; Non Ferrous Metals viz Lead, Zinc, Copper, Aluminum; Aluminum Ingots; Aluminum Extrusions; Wires & Cables; Consumers Electronics; Copper Wire; Medium & Heavy Engineering Goods; Furniture; Jute Yarn; Synthetic Yarn; Logistics; Chemical; Food Products; Block and Paver; Bagged Products, Paper Rolls, Rubber Product & many more

Trade Information
Contact us for information regarding our sample policy

Standard
Bihar, Odisha, Jharkhand, Tripura, Mizoram, Chhattisgarh, Assam, Meghalaya, Manipur, West Bengal, Madhya Pradesh, Sikkim, Nagaland, Arunachal Pradesh, All India